Once you are logged in a window computer system, you will get dozens of applications, so you can choose an option of your requirement.
Many of the options have shortcut icon readily available on your computer screen; however, in some computers, you may not find any such option on the screen; in such a case, you can take the help of menu button (as shown in the image given below) −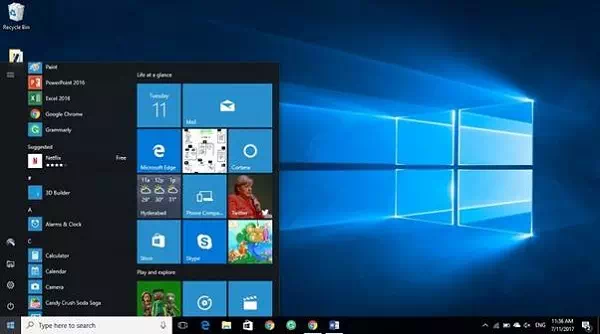 As you can see in the above image, in the left bottom, there is a window symbol (i.e., menu button); once you click on it, the given menu option will appear and from here you can choose your option.
Start Menu Options
The following table lists down the options that appear after clicking on the Start menu −
| | |
| --- | --- |
| Sr.No. | Option & Description |
| 1 | All programsIt displays all those programs, which are installed in your system. |
| 2 | DocumentIt displays a list of folders used by the user. |
| 3 | Recent fileIt displays the recently used file. |
| 4 | My pictureIt displays a list of pictures. |
| 5 | My musicIt displays a list of music/song, etc. |
| 6 | My computerIt displays the drives of computer where user keeps his/her work, file, folder, song, video, picture, e-book, etc. |
| 7 | Control panelIt displays all the installed computer programs (software). |
| 8 | PrinterIt displays the installed printers (if printer is installed in the system, user can take print easily). |
| 9 | Help (support)It helps users to know how to do a particular task. |
| 10 | SearchIt helps a user to find a file in computer. |
| 11 | RunIt helps to start an application program or execute a DOS command. |
| 12 | SettingIt has different options that help to manage different settings of the computer, software as well as hardware. |
| 13 | Log OffIt helps a user to log off the currently logged in user of the system. |
| 14 | SleepIt makes the system non-functional; however, puts the ongoing work and settings in memory and also keeps drawing small amount of power. |
| 15 | HibernationHibernation puts the open documents and programs on hard disk and then turns off your computer; in comparison to 'sleep', it uses very low power. |
| 16 | RestartIts function is to shut down and again start (log on) computer; it is done normally to refresh computer especially when computer is hanged. |
| 17 | Shut downIt simply shuts down the system. |
Note − Depending on the version of your window, the menu option may vary in terms of appearance and number of menu options; however, there would not be any change in basics.
Recycle Bin
Recycle Bin is a trash location where deleted files remain stored. Once you delete any sort of file, it gets stored (automatically) into recycle bin; therefore, if you mistakenly deleted some important file, don't panic, go to recycle bin and restore it. However, if you deleted file from recycle bin as well, then it is very difficult to restore that permanently deleted file.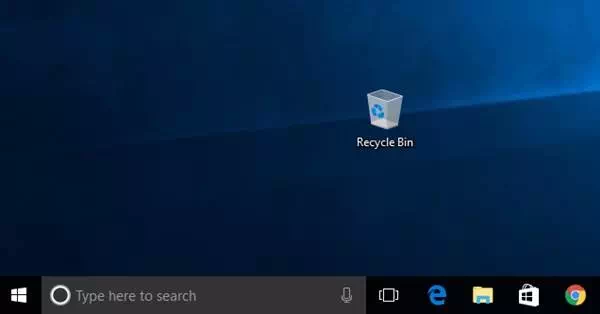 Internet Option
The option (i.e., short-cut key) of the Internet browser may be available on the main screen or at the bottom menu bar (as shown in the image given below). However, if do not find it at both these places, go to the menu, as all programs are listed there.